INDUSTRY FRAMEWORK –
The insurance industry is a very mature and fully saturated market. The only manner in which to increase sales substantially is to take them from the other guy. There is little differentiation concerning the various insurance product options, therefore the only way to increase sales and profits is through advertising and brand development.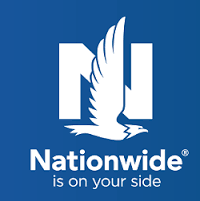 Over recent years, Geico has been the best at developing a powerful brand through its brilliant and imaginative marketing campaigns. During the late 90's, The Martin Agency came up with the idea of taking the Geico name and associating it with a little lizard known as a gecko. A cute little animated spokescritter was born, leading to the foundation of what has now become the incredibly successful Geico brand. The gecko first made his appearance in 1999, during the strike of the Screen Actors Guild, which had prevented actors from performing in television commercial advertising. Since the gecko's debut, Geico's sales revenues have increased substantially; going from under five billion dollars of annual sales at that time, to now being well in excess of twenty billion dollars. So what is fifteen billion dollars per year of additional sales revenue worth to Geico? Let's just say that a price tag of one hundred million dollars does not even begin to cover it. In fact, strictly looking at the additional annual profits generated, it is unlikely that a one billion dollar price would cover the value of the now famous Geico gecko. Of course the odds of success for an idea like the little gecko are extremely low; however the upside is also inconceivably large.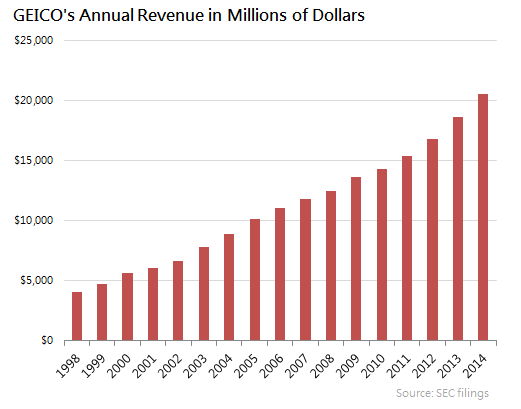 Certainly a great deal of advertising knowledge, experience, creativity, and hard work was required in order to develop and build the lizard brand (and the gecko hasn't been Geico's only branding success), nevertheless it is difficult to deny that it was the concept of this cuddly little animated talking gecko that has been absolutely fundamental to the success of Geico.
This has led to massive advertising budgets for all large insurers such as Geico, Allstate, State Farm, Liberty, Travelers, Met Life, Prudential, Northwestern, Progressive, Nationwide, Farmers, etc. It truly is a world of advertise or perish - it's all about the brand.
According to the SNL Financial report, the top industry advertisers in 2013 were:
1. Berkshire Hathaway: (Geico): $935.1 million
2. Allstate Crop.: $654.8 million
3. State Farm Mutual: $608.1 million
4. Progressive Corp.: $604.2 million
5. Nationwide Mutual: $296.7 million
6. Liberty Mutual: $197.0 million
7. UnitedHealth Group: $193.3 million
8. Farmers Insurance Group: $165.8 million
9. American Family Mutual: $148.7 million
10. United Services Auto Assoc.: $133.0 million